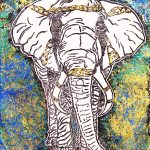 First, I created Elephant World.
Later, I created a series of feather prints.  
 In 2018, I had another new shell print: Striped Shell.
 In 2020, Unity of Bliss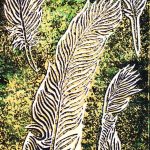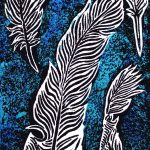 .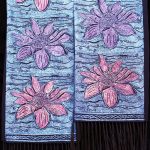 Hi, welcome to my art world.  I hope you enjoy seeing my lino-cut prints.  I enjoy printing them in my studio.  I will add new designs and plan to show you those new ideas as soon as I create them.  Please feel free to comment or contact me.  You will find that often the prints are a little bit different than the one pictured, that is because I apply color differently every time I approach the fabric or paper. First, I start out with a blank piece of art linoleum. I carve out my design, often using a magnifying glass to create the fine detail found in many of my story blocks.  Once I have a design carved, I either use textile ink that is permanent to fabric or a water soluble ink that is applied to paper.  Everything is hand done.  You could say it is very green because no machines are used.  All inks are non-toxic.  I consider myself like a 14th century artisan, because I use the same methods they used when artists first started using wood blocks or stone prints.  I'm just a little bit modern with the use of 
fabric inks or block printing ink.  Jody Bare   PS: This is Divine Lotus scarf and Divine Lotus lino-cut print. (above)
The Unicorn and the Maiden print.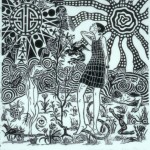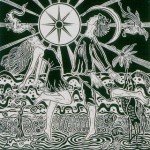 My larger prints tend to have a story behind them.  An example of what I am trying to portray in "Night Dancer " is this:  A cosmic union of opposites gives birth to the phenomenal world.  This dreamy, innocence gives heart to the center.  Two interlock by which heaven is brought to earth.  They are the center and the center is everywhere.  The dancers work in harmony giving flight to their souls.  A man and woman open their hearts and spontaneous perfection wells up.  Dancing in the surf, they become the absolute center.  Their rhythm points to this center where a gateway to an infinite field of the divine appears.  They do not repent the past; they do not hash over the future; they are in the present and that is why they are untouchable.  The cranes mirror this union.  The waters are stirred by these fiery human spirits, while the phoenix and his dragon partner rise up, finding the world fully awake.
This is just my interpretation, you may view my work and dream your own story.  Ask me about my other stories.  Thanks, Jody Bare