Nautilus Secrets print and scarf.  See how printing on paper and fabric change the whole look.  This is the same block just changing colors and medium.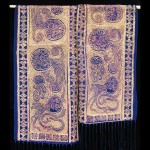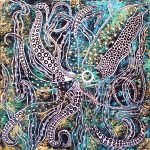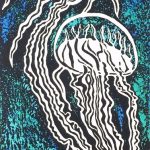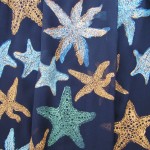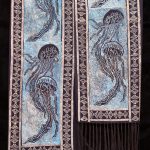 These blocks have been one of my more successful works: Squid in Sun-filtered Kelp  I saw these Neddle jellyfish at the Monterrey Aquarium: Neddle Ribbons. They were so beautiful. Also, Sea Star Currents & Turtle Awe are more ocean inspired pieces.  I hope I can capture more sea motifs.  These lino-cut prints are done in turquoise and green. Read more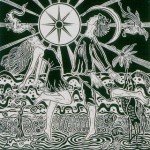 My larger prints tend to have a story behind them.  An example of what I am trying to portray in "Night Dancer " is this:  A cosmic union of opposites gives birth to the phenomenal world.  This dreamy, innocence gives heart to the center.  Two interlock by which heaven is brought to earth.  They are the center and the center is everywhere.  The dancers work in harmony giving flight to their souls.  A man and woman open their hearts and spontaneous perfection wells up.  Dancing in the surf, they become the absolute center.  Their rhythm points to this center where a gateway to an infinite field of the divine appears.  They do not repent the past; they do not hash over the future; they are in the present and that is why they are untouchable.  The cranes mirror this union.  The waters are stirred by these fiery human spirits, while the phoenix and his dragon partner rise up, finding the world fully awake.
This is just my interpretation, you may view my work and dream your own story.  Ask me about my other stories.  Thanks, Jody Bare