Shows:  Click on my curated collection on shopvida: www.shopvida.com/collections/jody-bare.  Open Studio is Oct. 5th, 6th, 19th, & 20th, please visit my studio at 342 Pennsylvania Ave, Santa Cruz, Ca., this will be my 17th year in Open Studio. If you need anything for birthdays, wedding presents,  or special events,  contact number.  831-425-8430
My scarves are now showing at Many Hands in Capitola, CA,  Artisan's in downtown Santa Cruz, and Santa Cruz Art League in Santa Cruz. You can also buy my work at www.etsy.com/shop/Bareprint or www.facebook.com/jodybare.blockprint  PS.  Don't forget, I do lino-cut prints for any special place in your home. Inspired from the sea, my latest scarves and prints: Night Owl print, Bumble Buzz  & Wild Weeds scarves are available.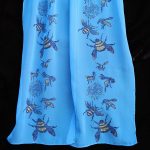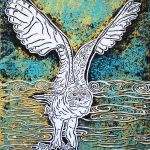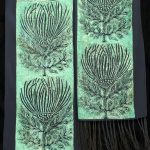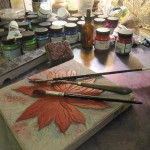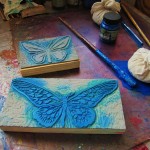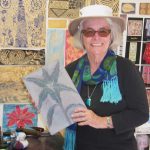 Do you think growing up in an art studio makes you an artist? Maybe, I grew up in my mother's studio, and enjoyed creating linoleum block prints then and today.  I was introduced to my medium when I was ten. My mother instructed me on how to carve a linoleum block for a Christmas card; however, the next time I worked in this medium was in a Textile Design class at Western Kentucky University. I was introduced to batik, tie-dye, silkscreen, and block printing. I loved it all. I even taught a Basic Design class at Western after I graduated. Later, in graduate school at University of Tennessee, Knoxville, I minored in Textile Design. Batik was my thing then, but when I almost set my house on fire and nearly destroyed all the automatic dry cleaning machines in Knoxville, I changed to block printing. I became a full-time instructor at Miami University of Ohio in the Fall of 1975, but I continued to experiment in my printing and even took more design classes. I started designing vests and kimonos that I had printed with my newly carved spiral designs. Ironically, they were showing in an Art to Wear boutique in San Francisco. After three years in Ohio, I made a paradigm shift, quit teaching, and moved back to Kentucky in 1978.  Again this change gave me time to work on my printing techniques and design motifs. I had two one-person shows in Owensboro, Kentucky, worked summer fairs, and began to show nationally my quilted, lino-cut printed garments. Following that, I was asked to teach the Textile Design class at Western Ky. University, the original class that inspired my artistic direction.  In 1983, my husband and I decided to move to Santa Cruz, California. Finding that the streets are not paved with gold, it got harder to keep my art going.  I taught a Beginning Clothing Construction at Cabrillo College in Aptos, CA , but my classes were cut due to an economic downturn in 1990.  Again, I had another shift. It was time to go back to my art, but it needed a message.  I started studying symbols across the world and across time.  I created story blocks that reflected birth, marriage, journey, death, creation, bliss, or in other words, basic archetypes of human experience. This cemented me as an artist. Later in 2000, I started printing on silk scarves and placing them in local galleries. I became an Open Studio artist in 2003. Today, I print my simpler designs of flowers, shells, and geometric motifs for Art to Wear, and I print my more detailed symbolic blocks as framed pieces.  My art continues to evolve, but I have not wavered from my original linocut print medium, and I still show off that first Christmas linoleum block. I made it into Open Studio for the 17th time, yeah! Check out: www. facebook.com/jodybare.blockprint , www.etsy.com/shop/Bareprint; plus, I have work on www.shopvida.com/collections/jody-bare.  Come to my studio: 342 Pennsylvania Ave. Santa Cruz, CA 95062.