Divine Lotus Red Purse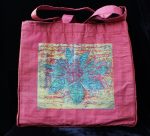 Lino-cut print on silk with cotton canvas lining and zipper insert.  "Divine Lotus" is a two block process printed with turquoise Jacquard textile ink and overprinted with Aztec gold.  Second printing is with royal blue overprinted with emerald.
Lino-cut print on 100% silk purse with cotton canvas lining plus zipper.